Each place is separated by hedges and trees, of 100m ², able to accomodate 6 people, 1 car and 1 equipment maximum.
Arrivals are from any day and from 1pm; The place must be vacated before 12h.
The reservation is made for a stay of 7 nights minimum.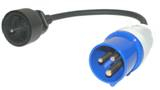 All squares can be connected to an adapter and an extension cable of 15 to 25m ideally will be required, not supplied.
There is the possibility to rent a fridge according to the stocks.